Welcome to EFT
Empower yourself with EFT!
As an EFT practitioner in New Jersey, I have worked with many clients who have gained a whole new perspective on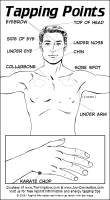 life after practicing EFT.
EFT is a wonderful tool for self-empowerment.
By simply tapping on your own meridian points, stress, anxiety and other problems can ease.
EFT or Emotional Freedom Technique has been described as acupunture without the needles. Therefore it is portable and can go where ever you go!
To learn this amazing technique check back at this site for amazing and exciting seminars and workshops to attend.
Freedom from the emotions that plague you may just be a "tap" away.
Contact me to leave any questions you may have.