You are a Dream Builder!
"I know that you are a dream builder. You were born with a great power: the innate ability to create the life of your dreams!
But that doesn't mean you know how to access it, or that you currently have the tools you need to make your dreams a reality.
Whether you've been wanting to manifest the love of your life, or the dream career, or you would love that trip to Europe or the extra money every month your family needs…
I can help you.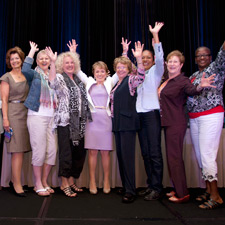 I can help you give your gifts to the world.
Maybe you would like more time and money freedom, or simply to feel more fulfilled and confident in your life, or perhaps you are ready to discover and step into what you were born to do, but you're scared." (picture and narrative from www.marymorrisey.com)
Dream Building Coaching may be just the fit for you!
Investment:  $200.00 per coaching session
Coaching Packages Available for Incredible Savings!! 
Come Prepared: Give yourself added time to come, settle and relax prior to our session.
                         Bring a journal!
Come join me for The Vision Workshop!
The Vision Workshop                                                               
Do you want to experience more prosperity and balance in your life?
Are you pouring your heart and soul into your work and still not getting the results you want?
Would you like to increase your success and stay in complete harmony with your highest values and spiritual beliefs?
If these questions resonate with you, then you are going to love this seminar!
The Vision Workshop: 3 Keys To Accelerating Your Results
When: TBA
Where: TBA
Investment: $97.00
Reserve your place by calling 908.431.0092 leaving a name and number where you can be reached!
In 1853, Henry David Thoreau wrote this a famous essay called "Walden" which contains a hidden code for prosperous living.  During this dynamic Vision workshop you will unlock this code so that you can harness your life's purpose and the prosperity you deserve!
You will learn: 
Two essential keys for tuning into your purpose.
A 5-point test for determining whether your dream is right for you. 
Simple thinking-strategies that will guard you from fear, doubt and worry.
What wealthy people do that creates sustained success.
The number one factor that causes people to lose steam when going after a dream, and how to stay motivated and override it. 
A proven method for dissolving resistance you may have to prosperity so you can attract higher levels of results and abundance.
The 1 critical thing you must give up in order to reach your dream.
And much more!
Reserve your place by calling 908.431.0092 and leave your Name and a number where you can be reached. 
Dr. Terry Lynch is a physical therapist, Coach, Author, Trainer, Energist, International Speaker and uses Transformational Energy Techniques along with Mary Morrissey's science of Dream Building to transcend your blocks and build the life of your dreams. 
For More Information…
Email: Terrylynch7@gmail.com
 Call: 908.431.0092
Remember, you can contact me through this website or email me at TerryLynch7@gmail.com
Beautiful Dreaming!
Terry